Join the 6th edition of the Climate Finance Day, organized by Finance For Tomorrow
Past events

X

Events to come

X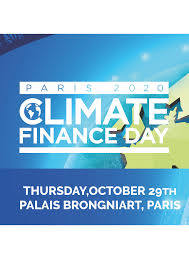 On the 29th of Octobre 2020, join in the 6th edition of the Climate Finance Day organized by Finance For Tomorrow.
Spearheading financial innovations for the green transition, the European financial industry should mobilize to support the implementation of the green deal and serve the needs of the real economy.
Placed under the High Patronage of Mr Emmanuel Macron, President of the French Republic and under the Patronage of the French Minister for the Economy and Finance, the 6th Climate Finance Day will be fully dedicated to these issues with the theme: "Sustainable Finance: How to reboot the European real economy?".
This year's edition will focus on the EU policies as well as local issues. It will also showcase public and private financial mechanisms and tools available or to be designed in order to meet the needs of the different sectors of the European economy.
To find out more about the event: https://financefortomorrow.com/evenements/climate-finance-day/